In a world full of different types and brands of guitars and amps, a beginner might feel overwhelmed with what to choose to start their guitar learning journey. And while learning everything before making the investment is impressive, a guitar/amp bundle like the popular LyxPro Electric Guitar Kit could come in handy.
Like our previous review of another guitar/amp bundle, this one also comes at an affordable price with everything you'll need to start playing. But is the LyxPro starter kit worth your time and money? Let's find out!
LyxPro Guitar Bundle Contents
This electric guitar kit comes with the following items:
Full-sized electric guitar
20-watt guitar amp & cable
Digital tuner
Extra strings & picks
Strap
Tremolo/whammy bar
Carry bag
Allen wrench (truss rod adjuster)
LyxPro Specs in Detail
Size and Scale Length
At 39 inches, the LyxPro is a full-sized electric guitar with a 25.5 inches scale length.
Design and Build Quality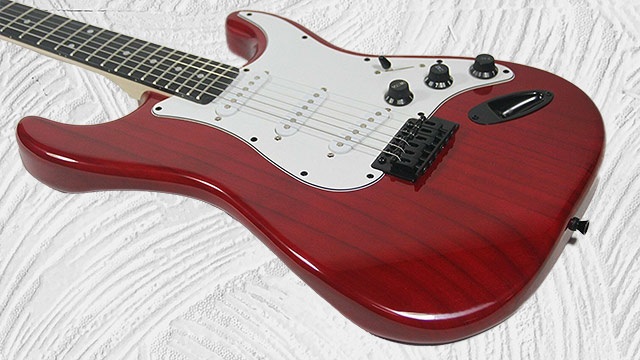 The design of this guitar is based on the famous and iconic Fender Strat or Stratocaster. Everything from the pickup arrangement to the pickguard and from the body contours to the control knobs resembles the Strat.
The build quality is good, even impressive for the price, along with the finishing and craftsmanship, which is also quite decent. As with almost all cheaper instruments, the quality control could be a hit or miss, especially the fretwork, which might need some filing to be properly playable.
Overall, the guitar looks beautiful in its thick, glossy coating and is available in 10 colors in both left and right-handed variants.
Body & Tonewood
The manufacturers do not state the tonewood used for this guitar but the neck is made of Canadian maple long with a Rosewood fingerboard. The guitar is lightweight but feels solid in the hands.
Neck
The neck on the LyxPro electric guitar is straight as it should be and has a thin profile making it "fast." The Canadian maple used for the neck is good quality, and the neck joint feels sturdy.
The fretwork is quite decent for the price, as only a few minor sharp ends needed sanding/filing down. That being said, the finishing on the neck, especially the fingerboard, is quite decent. But be ready to put in some elbow grease as quality control is hardly the selling point of the LyxPro electric guitar.
Hardware
The hardware on the LyxPro is nothing to write home about, but they work satisfactorily. The vibrato bridge, quite the surprise at this price, works decently and is secured on the body with 6 screws. And even though a tremolo/vibrato bridge looks like a good deal, the cheaper ones are not known for their tuning stability. However, quite surprisingly, the bridge and the whammy bar work as expected and give you decent adjustment options.
The tuning machines, in contrast, are below-average. They work but don't have quite the right feel to them. Unsurprisingly, some people report tuning issues that were resolved once they put on a new set of tuners.
The control knobs are all plastic and feel cheap, and the strap buttons give a sturdy feeling and are well-placed for their purpose.
Pickups
The LyxPro electric guitar has the usual Strat pickup placement with three single-coils. The pickups are decent; however, they seem sometimes to not pick up the vibration with a very subtle hammer-on or tapping. However, I feel some height adjustments might fix this. The 5-way pickup selector switch does offer a good tone variety, but the two tone knobs/controls do not do as much to the tone as I had expected.
Amp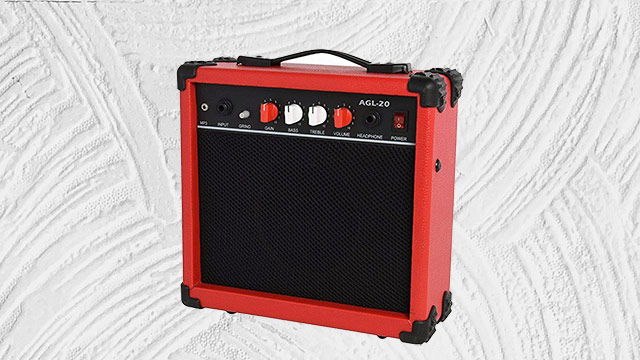 The bundled 20 watts practice amp is the second highlight of the package, with a 2-band EQ and a headphone output. There is an Overdrive channel, but it doesn't work as well. The Gain control doesn't work linearly as you would expect, and the sound starts to squeak as you push the amp to overdrive. But not surprisingly, the amp works very decently for clean sound output, and 20 watts of power is enough for practice and intimate gigging.
Amp Specs
20 watts power output
Speaker: 6.5 inch
2-band EQ (bass and treble)
OD channel with Gain control
1/8th inch AUX input
1/4th inch headphone output
Dimensions: 11.6″ x 11.2″ x 4.1″
Weight: 5.7 lbs.
Other Items
Digital Tuner
The tuner is of average quality, but it works; some buyers, however, report a discrepancy between this and an app-based tuner.
Strings
Both the guitar and extra strings are pretty average, and these should be the first things you get changed after a while.
Carrying Bag
It's a cheap bag with no padding (you can't expect that at this price, honestly). It's good to protect the guitar from dust but not suitable for carrying.
Shoulder Strap
Pretty average quality. If you play standing up, get a good strap immediately.
How is The Build Quality?
LyxPro is a well-constructed and beautiful electric guitar. However, it is one of the cheapest out there, and it shows in the quality control, which is quite inconsistent from guitar to guitar. You should be good to go if you can perform basic DIY tasks, such as sanding/filing the fret ends and adjusting the action and intonation. The LyxPro wouldn't disappoint you. But you can't expect to get a totally playable and properly setup guitar out of the box unless you're lucky.
Some more tweaking, like replacing the factory-fitted strings with some decent ones, replacing the tuning machines and adjusting the pickup height or altogether replacing them with something from Fender, would make a world of difference.
How Does it Sound?
Considering the guitar's price, the LyxPro sounds pretty good and gives you good versatility in tone with the 5-way pickup selector switch. You can select each of the three pickups (neck, middle and bridge) separately and two in tandem (neck-and-middle and middle-and-bridge). However, the Tone controls don't do much for tonal adjustments.
Being single-coils, the pickups produce a bright, clean tone which is a little flat, though. The pickups aren't very hot (have a very strong signal) but are articulate enough and produce decent mids and highs.
You would like the sound of this guitar if you play blues, jazz, rock, country etc.
Who It's For?
The LyxPro electric guitar is full-sized and perfect for adults and teenagers. However, you would be better off buying a smaller guitar if your kid is younger than 10.
It could be a decent guitar for a beginner who doesn't want to invest much money in their hobbies just yet, as it comes with everything you'd need to start playing. If you're willing to put in some work and perform some tweaking, you'll get much more out of the guitar. Remember, to make this properly playable, you might need to be able to perform some DIY and basic setup (or ask someone else to do it for you).
I could also see someone more advanced having a use for it. You can easily replace the hardware with better ones, and I'm confident it would play and sound much better. And for the price, you don't have much to lose.
Avoid This Guitar…
If you want a high-quality guitar that's playable right out of the box with minimum work needed
If you're buying this for your kid and you don't know anything about guitars as a bad first experience which is, to some extent, likely can deter them from going on with learning
If you're buying this as a gift for someone. Avoid this and buy something else from Ibanez or Squier along with a separate amp if your budget allows for it or just gift the guitar.
In Short
Let's look at the pros and cons of the LyxPro electric guitar/amp bundle.
Pros
Very affordable
It comes with everything you'll need
Good for beginners
Good, cheap guitar for modding. Change the hardware and strings, and the guitar would sound and play much better
The 20-watt amp is loud and of decent quality
Cons
Inconsistent quality control from guitar to guitar
It might need some work and initial setup to be optimally playable
Pretty much everything apart from the guitar and amp is very average quality
Alternative
The Best Choice Products electric guitar bundle we reviewed in the last article is a good alternative. Both these guitars are very similar except for the amp. The bundled amp on this one is double the power and more capable. However, the other guitar bundle is $20 cheaper.
Final Verdict
LyxPro 39″ Beginner Electric Guitar Kit
Overall, I'm impressed with the LyxPro electric guitar bundle and recommend it if you're low on the budget or don't want to invest much. It's well-built, good sounding, and easy to play. However, inconsistent quality control, common with all cheaper guitars, could mean you'll have to put in some effort.
The guitar is very playable and enjoyable once you get the setup right, and if you're a DIY person you can also replace some of the hardware with better ones. This would make this guitar serve you for quite some time. I hope this review was helpful to you, and until next time – goodbye!