Best Choice Products Full Size (39 inches) electric guitar pack is one of the most popular starter bundles on Amazon. With so many options out there, people getting started with a guitar usually choose a starter kit or pack for two reasons. First, they're cheap; second, they come with everything a beginner will need – from the guitar to the cables and from the tuner to the amp.
While I usually advise against buying bundles or packs in favor of buying everything separately. Guitar and amp bundles lower the barrier to entry for people who might be overwhelmed by the different models and specifications of the guitar and amp. After talking with several beginners about their problems, I feel guitar and amp bundles have their place. And as long as you know exactly what to expect, they can be pretty valuable for an effortless entry into the guitar world.
In this detailed review, we'll learn everything about the Best Choice Products electric guitar pack, what's good, what's not, and everything else. So, grab a cup of coffee, and let's dive right into it!
What's In The Box
The Best Choice Products Electric guitar bundle consists of the items listed below. The major highlights are the electric guitar, the amp, and the connecting cables. This means you have all the necessary items to start playing/learning guitar in a single package.
Full size (25.5-inch scale length) electric guitar (Stratocaster style)
10W amp and connecting cable
Whammy/tremolo bar
Truss rod adjuster
Carrying bag (cheap quality) and a cleaning cloth
Shoulder strap
Extra set of strings
Picks
Electronic tuner
First Impressions
The guitar is based on the famous Fender Stratocaster, commonly called the Strat. This means you get the same legendary body design, pickup arrangement, and overall aesthetics. It also means you'll be able to transition to much better and more expensive guitars that share the same basic body design in the future.
It's a full-size guitar (39 inches) with a 25.5 inches standard scale length. The build quality and finishing are quite good – much on par with the price tag. The construction feels solid, and the guitar has some weight (not excessive), giving it a nice feel. The overall Strat aesthetics look good, and it doesn't look quite as cheap.
Design and Build Quality
The body is made of hardwood which is expected at this price point, along with a maple neck and rosewood fretboard, which is surprising. The guitar is available in eight colors which is plenty to choose from, and the overall quality and finish are good. The guitar had almost no visible defects. The body had no dents or marks, and the neck was straight. The fretwork is decent for the price, but some sharp ends needed filing. This is common with all cheaper electric guitars, though. So, I can't nitpick too much.
The guitar also came sufficiently well set up from the factory and only needed tuning and a bit of bridge saddle adjustment to get the proper action. But remember, these "affordable" guitars are notorious for a wide variance in quality control – especially set up. Yours might or might not come as well set up; therefore, basic knowledge of setting up a guitar would be helpful.
Hardware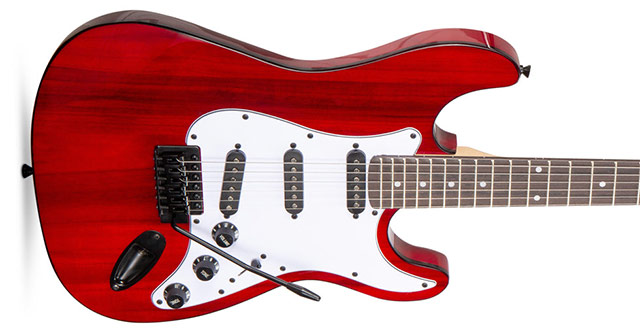 The guitar comes with decent to average-quality hardware. The bridge is quite decent and, very surprisingly, is a vibrato one with a whammy bar! Though decent, the bridge is far from Fender quality, which is expected. It works like a standard Strat bridge and is adjustable for height (separately for each string) and intonation. Some people report tuning stability issues, but mine had no problems.

The tuning machines, however, could be better, they get the job done, but I expected better ones. They don't feel smooth while tuning, nor do they feel solid.
There are three single-coil pickups along with plastic control knobs. Again, the plastics feel cheap but the pot themselves feel decent.
Sound Quality
The guitar comes fitted with three single-coil pickups (like the original Strat), and it sounds surprisingly good when set up well. The pickups sound nice and clean, and the signal quality is decent. You get three pickups and a 5-way selector switch that lets you select the following pickups:
Neck pickup
Neck and middle pickups
Middle pickup
Middle and bridge pickups
Bridge pickup
The two tone knobs lack the response and don't work as well as I had expected. Same for the volume knob – the response doesn't seem linear, and there were some "jumps." But you can get a good sound out of the guitar by keeping the knobs near-max on the guitar and using amp controls to shape the tone.
With three pickups, you can expect good tonal variety and versatility. The sharp, clean tones are great for blues, pop, jazz, and funk, but you can also play decent rock music with some tinkering with the amp and pickup settings.
Playability
The BCP electric guitar plays well when correctly set up – the same as any other guitar. So, we're talking about the inherent playability, which is pretty good for the price we're paying for this guitar. The general intonation and action are good, and the neck has a nice modern profile, making it decently fast to maneuver.
The fretwork, with the exception of sharp ends, is quite decent. Sharp fret ends can cut your fingers and make the guitar unplayable, so I suggest filing them down before you start playing.
When properly set up, there is no buzzing, but remember the strings are very low quality, and you might be better off replacing them as soon as possible. The action out of the box was a little high for my preference, so I had to lower the bridge. The intonation was decent, and the bridge held up the tuning sufficiently long, but some people reported issues with the bridge.
Pros & Cons
Pros
Very affordable pricing
It comes with everything you need to start playing
Familiar Fender Strat design
Sufficiently loud practice amp
Cons
Below-average quality control
There is a good chance you'll need to put in some effort to make the guitar optimally playable
Most of the bundled stuff, like the electronic tuner and carrying bag, is low quality
Bundled Amp Review
The small practice amp is sized 10″ x10″ x4″ and has 10 watts of power output. The amp is sufficiently loud for practice but is very average quality. It sounds good but has a static hum, sometimes supposedly from electric interference. The humming sound is not very loud but is noticeable, which shows that it's a budget amp.
Though small, the amp comes with a 2-band EQ, an Overdrive channel, and a ¼" headphone output, which is very basic for a practice amp.
More About Best Choice Products – the Manufacturer
Best Choice Products, the manufacturer of this electric guitar, is a company based in Southern California. They have a very generalized and wide range of products in their lineup, ranging from furniture and lifestyle products to toys and musical instruments.
Best Choice Products is mainly known for their affordable pricing and good quality products. Digging deeper, we discovered that their electric guitars are manufactured in China. We are unsure, but we assume they are probably just selling white-label Chinese-manufactured guitars under their names.
What Should You Expect from Best Choice Products Electric Guitars?
The Best Choice Products electric guitar is cheap. As with cheap anything, especially musical instruments, there might be some variation in the build and finish from one to another. You can also expect similar variances in the quality control and setup. Some may come with better finishing and might be good to play straight out of the box, while some might need a decent setup before they are optimally playable.
On average, you can expect to get one that might need a little bit of work to even out the minor manufacturing defects, such as sharp fret edges, etc., and some basic setup. After which, you can expect to have a decently playable electric guitar. If you have a guitarist friend, they would be helpful in checking it for any significant defects that might need a replacement.
Overall, the Best Choice Products electric guitar is decent as long as you have your expectations in check. It's not a $500 Ibanez or a $250 Squier. It could be a good starter bundle because it comes with everything you'd need initially to start learning and playing electric guitar.
Who Is It Suitable For?
Best Choice Products or BCP aren't well known for thier musical instruments like Fender, Squier, or Ibanez (not even close). This is to say – it's only natural that you can't expect a high level of craftsmanship or quality control. It also means I can only recommend BCP electric guitar if you're very tight on your budget or have a knack for tinkering with stuff to make it to your liking.
Most people who would be interested in these guitar bundles are, frankly, beginners because of the lower pricing. And a poorly set up or crafted instrument may sometimes ruin a beginner's experience unless they know what they are dealing with. Although BCP electric guitars are very decent when set up well, all cheaper musical instruments are known for lacking quality control. You should at least be able to do some fret filing and set up yourself to play cheaper ones at their full playability potential. And quite frankly, those are things I feel every guitarist should know. You can watch YouTube videos for the procedure; it's pretty straightforward.
Those who like to make significant changes to the hardware can also benefit from the cheap pricing. With a decent replacement bridge, pickups, and tuning machines, this guitar can easily play and sound on par with many higher-priced ones.
Who Is it Not Suitable For?
First, I wouldn't recommend gifting this guitar to anyone unless you're well-versed in setting up a guitar or ironing out the minor flaws before gifting. You can take it to a luthier, but wouldn't you want to save that $50 and buy something else?
If you're considering buying it for your kid (10 years or younger), think again. Unless you're on a very tight budget, I recommend investing $100 more and buying a Squier or Ibanez. While kids are somewhat fickle, and you might be tempted not to invest much, a better quality instrument would at least give them a chance if they're serious. I would also recommend going with a shorter-scale guitar. Some people recommend acoustic or classical guitars for kids, but electrics are an excellent choice for starting.
Alternative
The LyxPro bundle, which is priced very similarly and has a virtually similar guitar in both design and build quality, is another option you can get. It includes a higher power amp 20-watt amp but is priced at $20 more.
Other FAQs
Is Best Choice Products a Real Guitar?
Yes, the BCP electric guitar is a full-sized (standard scale-length) "real" guitar.
Where Are Best Choice Electric Guitars Made?
BCP electric guitars are made in China.
Conclusion
The Best Choice Products electric guitar bundle is a decent entry-level guitar for beginners. While some people might want to put in some extra money and buy a better guitar and a separate amp, others might benefit from the decent bundle that includes everything.
While the bundle doesn't include high-quality stuff, the guitar, and the amp, the two essential things, are pretty decent. The guitar is playable but might need some work, and the amp is loud for practice and gets the job done.