Vox is a well-known British musical equipment company founded in the 1950s and famous for their Vox AC15 and AC30 (30-watt version). The AC15C1 is a modern version of the original AC15 tube amp that made Vox popular in the British music scene back in the 60s. The Vox AC15 Custom or C1 brings the classic jangly high-end and thick overdrive that was the staple of British music and continues to be used. It is also one of the most recorded amps in the music industry, which says something about its distinct sound.
In this article, we'll review the Vox AC15C1 in detail, starting from its features and specs, then talking about its sound quality and performance. We'll see how it performs while playing clean as well as while overdriving.
This will be a long review, so sit back and enjoy!
Features & Specifications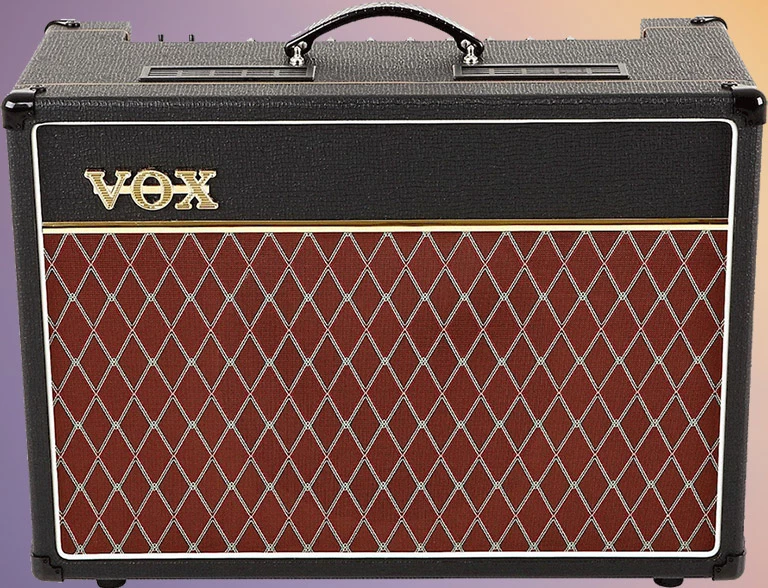 The Vox AC15C1 has 15 watts of power and comes with a single 12" speaker from Celestion. It has 2 channels – Normal and Top-Boost. Since the Celestion Greenback speaker is slightly mellower-sounding and focuses more on the midrange than the highs, the Top-Boost channel is great for getting the chime and "jangly" high-end and a bit more gain of the original.
The Vox AC15C1 also has built-in reverb, tremolo effect, and a 2-band EQ. It lacks an FX loop, but you get a footswitch jack to control the tremolo/reverb effect. There are also a couple of 1/4th inch outputs for running an external speaker cab, with the option to run the amp speaker along or with it muted. The amp utilizes three 12AX7 tubes for the preamp section and two EL84s for the power amp. It is about 2 feet wide and weighs just under 50 lbs.
| | |
| --- | --- |
| Type | Tube (Valve) Amp |
| Power | 15 watts |
| Tubes | 3 x 12AX7 for the preamp, 2 x EL84 for the power amp |
| Channels | 2 |
| Speaker | 1 x 12″ |
| EQ | 2-band |
| Weight | 48.5 lbs |
| Effects | Reverb & Vibrato |
Controls

The controls on the Vox AC15C1 are laid out fairly straightforwardly. You get two Master controls – Volume and Tone to tweak the overall volume and tone. The Master Tone knob is great for cutting the high-end. Turn it counterclockwise all the way, and you get a bright treble-y tone. Turn it all the right, and you "cut" all the high-end and get a darker tone.
The next two controls are for the tremolo effect, followed by the Reverb Level knob that controls the spring-based reverb effect. Then you get the Top Boost channel controls, including a 2-band EQ (Bass and Treble) and the channel Volume knob.
The Normal channel only features a single Volume knob, but the two channels in the AC15C1 "bleed" into each other depending on the channel Volume. This means you play through the Normal channel while the Top Boost Volume is cranked all the way up, and the EQ settings on it would color your tone, though not as much as it would playing through the Top Boost channel itself. But this does open the door for adding some extra complexity to your tones.
Sound Quality
The Vox AC15C1 has the signature Vox chime, along with a beautifully clean and thick overdriven sound. It also handles effect pedals very well and is suitable for a wide range of genres. Does it sound exactly like the Vox of yesteryears? No. But it does have the trademark Vox sound – chime-y highs and midrange-heavy overdrive.
Volume
The first thing you notice when you crank up the volume is that this amp is LOUD! It's hard to imagine how loud it can get for a 15 watter if you have only used solid-state amps. This tube amp can easily cut through the mix in a small band and is good enough for small gigs.
Channels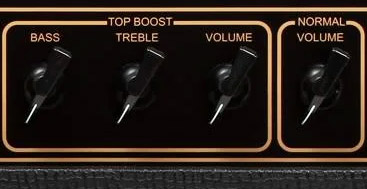 The Vox AC15C1 features two channels – Normal and Top Boost. And even though both the channels are somewhat similar in that they are both bright, the Top Boost channel does add a bit more treble and gain.
As we have discussed, the Normal channel doesn't have EQ controls, but the Top Boost EQ settings affect the Normal channel when the Volume is cranked up. But if you want extra versatility and an even more complex tone, you can use a Y-cable to blend both channels. You can also use an AB Y pedal which would let you switch between both and a single channel on the fly.
Normal Channel
The Normal channel has more midrange and tight tone due to the Greenback speakers. It might or might not sound as tight once the speaker breaks in, though. The sound is clean, full, and rich and has the Trademark Vox tone. I think it's voiced better for use with effects pedals and takes them incredibly well. And if I had to use a distortion pedal along with the Vox AC15C1, I'd definitely be using this channel.
You can also use this channel for overdriving the amp. Just know that the sound is a little less compressed and has more midrange focus. Unlike the Top Boost channel, you must push the amp slightly harder to break up the sound.
The Tone Cut knob plays a crucial role in rolling off the highs since the Normal channel doesn't have an EQ.
Top Boost Channel
This channel is more suited for lead guitar playing and when you want to drive the amp naturally through the Gain/Volume. With the Master Volume set at a comfortable level, you can use the channel Volume to get the amp into overdrive. The sound in this channel is more compressed and starts clipping sooner, which is why it might be better suited for the tube amp overdriven sound.
The Top Boost channel has more high-end brightness, but if you want a darker, thicker, and more midrange-heavy overdriven sound, you'd want to use the secret weapon, the "Tone Cut" knob. It works great in removing any excess treble from your tone. Not to forget the Bass and Treble controls, which work great in sculpting your desired tone. And while you don't get a Midrange control, the Tone Cut and these two controls work well in dialing in the perfect mids.
Overdrive
Vox tube amps are known for their tight crunch when overdriven, and the AC15C1 is no different. Real tube-driven clipping is a thing of beauty if you've only ever used digital overdrive. The tight, focused crunch has a lot of definition and maintains its clarity even when pushed to the limits. The complex harmonic overtones and natural compression, along with a touch of smoothness, make the overdrive sound even better. And it can get pretty gritty, too!
Built-In Reverb and Tremolo Effects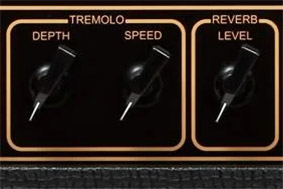 The spring-based reverb is good, but it sounds a bit shrilly. It's more like Hall reverberation and not the bouncy spring reverb you get in Fender's spring reverbs. It's more suited for blues and classic rock. The control knob is very sensitive and adds a lot of depth going past the 9 o'clock mark.
The tremolo sounds excellent and gives you extra versatility without needing pedals. You get two knobs – Depth and Speed – to control the effect, and again, they're quite sensitive and work well in dialing in your preferred sound.
Both these effects can be controlled with the optional footswitch (which you can buy separately).
Design & Build Quality
The Vox AC15C1 is built like a tank. It weighs just a little under 50 lbs, and for a combo amp of this wattage – that's a lot! Vox has kept the classic styling but has decided to use MDF for the cabinet to keep the pricing down. But again, the build quality is exceptionally good, and the vintage look is impressive, so that's a fair compromise.
Performance
Vox tube amps are known for their crunch, but the AC15C1 has quite a lot of headroom in the Normal channel for smaller gigs, even if you push it hard. It has absolutely zero noise or hums, which is expected.
The amp is also very responsive to your playing style, such as your picking style and attack, which gives you so much power to add more complexity and nuance to your tones.
And 15 watts power output is quite enough for smaller gigs and is able to fill smaller rooms easily. It can easily cut through the mix when driving hard, even in a full band with a drummer. And besides practicing and gigging, the AC15C1 is also one of the best amps for recording.
Pros & Cons
Pros
Great build quality and impressive vintage aesthetics
Natural compression at all volume levels
2-channels
Impressive Celestion Greenback speaker
Excellent spring-based reverb and tremolo effect
Versatile range of tones from jazzy to bluesy and rock
Beautiful overdrive from chime-y to gritty and everything in between
Sounds great even at lower volume levels
Excellent choice for recording
Cons
Very heavy
Lack of effects loop
Channels are not footswitch-able
Comparison to Similar Amps
The Vox AC15C1 is a great medium-powered amp that's good for home/practice use and for playing in small gigs. However, there are a few similar amps from Vox that might be more suited if you want one for a more particular use. Let's check them out and compare how they stand against this amp.
Vox AC30C2
This 30-watt tube amp utilizes the same tubes and a similar but higher-powered circuit to the power 2×12" Greenback speakers. It comes with a very similar set of features, such as 2 channels, built-in reverb and tremolo, a footswitch input, and other things. But it also has an effects loop, high-impedance input, and better reverb control. It's a great choice if you want a higher-powered tube amp but want the same Vox signature tones.
Vox AC10C1
This is a slightly cheaper (by about $220) 10-watt tube amp, which comes with a smaller 10" speaker and weighs around half of the AC15 at 27 lbs. For something that costs just a couple hundred dollars less, it lacks many features. There is just one channel (Top Boost), a lack of tremolo effect, and a slightly different speaker means you don't get the same classic tones or the versatility of the AC15C1. So, unless you want a smaller, more lightweight amp for practice and recording, you might be better off spending $200 more and getting the AC15C1 instead of this.
Final Verdict
The Vox AC15C1 classic tube amp comes with the signature Vox tones. It's very loud, has exceptional overdrive, a versatile range of tones, and has excellent overall sound quality. The dual-channel, Greenback speaker, and inbuilt effects make the deal even better. And, at its pricing, it's hard to find a tube amp that's built this solid and sounds this good. Whether you play classic rock, country, jazz, or blues, you'll not be disappointed with this guitar amp. And with that, we wrap up this Vox AC15C1 tube amp review.
FAQs
Can the Vox AC15C1 be used for metal music?
The Vox AC15C1 is a versatile tube amp with a thick, growly, and deep overdrive and is great for heavy music styles such as rock and classic rock. However, it wouldn't be enough on its own for most metal music styles. But pair it up with a good distortion pedal, and you can get some excellent metal tones out of it.
Can the amp be used for recording?
The Vox AC15C1 is one of the best tube amps for recording – the original AC15 being one of the most recorded amps ever.